Welcome to Omega's Dealer HQ!
We're here to help you do business YOUR way with some of the industry's best sales and support tools.
Not an Omega dealer? NO PROBLEM. CONTACT US to learn how easy (and profitable) it is.
Say Hello To Virtual Salesman
Virtual Salesman Benefits
How'd you like a full time salesman who knows Omega's product line better than anyone? This guy brings 40 years of collective knowledge to your showroom. He's ready to take vehicle security & remote start sales to the next level.
He qualifies your customers for you.
He never forgets to upsell features.
He never forgets to offer system upgrades & accessories.
You tell him what to sell and how.
He doesn't even take lunch breaks.
CONTACT US to learn more about how Virtual Salesman can increase your dollars-per-sale and improve your close ratio.
NEW INTERACTIVE DISPLAY SHIPPING Q3 2016!
Built-in 15.6" touchscreen LCD with Wifi!
Serves up YOUR Virtual Salesman with your store name.
Powder coated light weight aluminum housing.
Features a mounting panel & retractable tethers for remotes.
Includes a non-functioning smartphone to promote smartphone control upgrades.
Place on any counter top or wall mount (floor stand coming soon).
Sign Up Today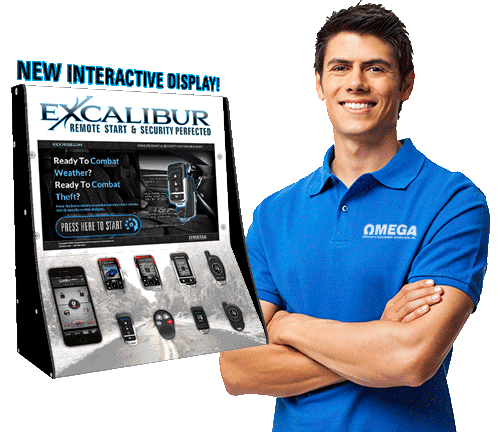 Why Omega? Good Question!
Over 40 years of vehicle security & remote start obsession.
You have no competition from big box retailers.
Award winning in-house technical support.
Innovator of industry standard technologies.
Unsurpassed quality & features at unbeatable value.
Best warranty in the industry. All system components are covered for life. Send it, we fix it.
CONTACT US to learn how Omega can help
you grow your business YOUR way.